Commercial & Industrial
FORWARD-THINKING SOLUTIONS
The Green NRG Co Mini Power System (MPS) is a multiple-source renewable energy generation and storage solution which enables users to generate, store and consume their own clean, free energy.
FLEXIBLE – SMART – PRO ACTIVE
GO GRIDLESS provides solutions can be used in a variety of applications to suit different scenarios.
Maximize & manage one or many energy sources
Utilize a hybrid of on & off-grid energy soures
Enhance the economies of generators by storing & managing wasted energy
Use stored energy for backup power during power outages
Create & Manage Energy from One or Many Sources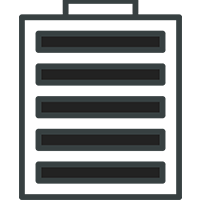 Flexible Sizes Scalable to Utility scale
Multiple Power Source Management
Vestibulum lobortis. Donec at euismod nibh, eu bibendum quam.
Variety of Solutions from world class manufacturers
Vestibulum lobortis. Donec at euismod nibh, eu bibendum quam.
Financing & Lease Options Available
Vestibulum lobortis. Donec at euismod nibh, eu bibendum quam.
Frequently Asked Questions
What is an MPS system/solution?
The MPS or Mini Power System is a multiple-source renewable energy control system. Think of the MPS as the brains behind the generation, storage and distribution of the electricity for the property.
What exactly is a renewable power system/solution?
A renewable power system/solution is made up of components that utilise off-grid power sources to reduce electricity costs. Cost reductions are achieved through the improvement of efficiency in the way energy is generated, managed and consumed. Our renewable power solutions intelligently manage energy to effectively and strategically reduce costs by allowing customers to partially or fully disconnect from the electrical grid.
Can I upgrade or retrofit an existing solar system?
Yes – we have solutions compatible with a variety of solar PV systems. Our upgrade & retrofit solutions are perfect for maximising a properties existing solar solutions, and unlock the full potential of what is already installed.
Can I use the MPS and still stay on the grid?
Yes – if you wish to stay on the grid, the MPS can be programmed to use the grid power as a backup/alternative power source if off-grid sources are unavailable. The MPS can also be programmed to store grid power when energy prices are at their lowest (off-peak rate). This means you can have renewable energy combined with off-peak grid power stored and saving you money on electricity prices during the most expensive times of the day.
What can I power with an MPS?
You can power anything with an MPS, as long as the combined electrical load requirements of the appliances you are trying to power at any one time falls within the specification of the MPS model you are using.
Air Conditioning Solutions
Our solar & battery powered Air Conditioners have been designed specifically to use available solar power, reducing associated electricity costs.
Water Desalination Solutions
Create fresh drinking quality water from deep well or raw sea water.
LED Lighting
GO GRIDLESS can supply high quality LED lighting solutions for regular application, or stand-alone operation with built-in solar & battery technology.
Refrigeration
Our solar powered Fridges and Freezers utilise solar to charge & power themselves off the grid, eliminating electricity costs.